Employment
---
SARC is looking for diverse, enthusiastic, dedicated, and hardworking students who enjoy helping fellow UCF students succeed academically and who can contribute to our programs and services with their unique skills and abilities.
Available Positions
The SI Research Assistant performs statistical analyses to produce a variety of student success reports for SARC and the Supplemental Instruction (SI) program. Other duties include classroom scheduling for SI sessions and events, as well as creating the SI master schedule every semester. The SI Research Assistant also tracks and updates students attendance for OPAL and SI on a regular basis and recommends methods to streamline data collection.
To apply for this position please complete the Research Assistant Application and include the following information:
A professional resume and cover letter
At least two valid references, preferably from a professor or supervisor, with contact information
Please read the Job Description for more details. The application deadline is Friday, March 22nd.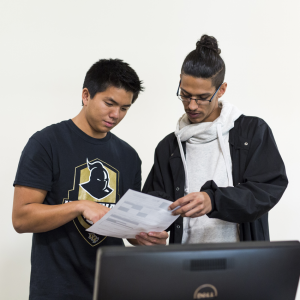 Supplemental Instruction (SI) Leaders are undergraduate students responsible for leading four, 50-minute study sessions per week for a designated course. Benefits to becoming an SI Leader include building leadership skills, networking with faculty, helping other students, and reviewing course material along with hourly compensation.
Hiring decisions for the Spring 2019 term for Supplemental Instruction have been completed. Our next application window will be opening during the Spring 2019 semester for Summer positions. For more information, please see the Job Description and FAQ.

SARC provides peer tutoring throughout the semester to undergraduate UCF students enrolled in the courses listed below. SARC Peer Tutors also conduct final review sessions during final exam week as part of Study Union Programming. Additionally, tutors become internationally certified through the College Reading and Learning Association (CRLA).
When applying, you must have a UCF Professor fill out the following Peer Tutor Faculty Reference Form. A copy of your MyKnightAudit (available through MyUCF) should be brought with you, if you are called for an interview. Review of applications will begin immediately. The application deadline for Summer is Monday May 7th or until all positions have been filled. All applicants must be able to attend an all-day mandatory training, Friday May 11th. The Application deadline for Fall is Friday, August 3rd. All Fall applicants must be able to attend an all-day mandatory training, Friday August 17th.
We are now hiring Peer Tutors for the following courses: BSC 2010 Biology I, CHM 1032 General Chemistry, CHM 2040 Chemistry Fund IA, CHM 2041 Chemistry Fund IB, CHM 2045 Chemistry Fund I, CHM 2046 Chemistry Fund II, CHM 2210 Organic Chemistry I, CHM 2211 Organic Chemistry II, COP 3223 Introduction to C Programming, COP 3502 Computer Science I, COP 3330 Object-Oriented Programming, COT 3100 Discrete Structures, ECO 2013, ECO 2023, ECO 3401, ECO 3411 Quantitative Business Tools, EEL 3004 Electrical Networks, EGM 3601 Solid Mechanics, EGN 3310 Engineering Analysis-Statistics, EGN 3321 Engineering Analysis-Dynamics, EGN 3343 Thermodynamics, MCB 3020 General Microbiology, PCB 3703 Human Physiology, PHY 2053 College Physics I, PHY 2054 College Physics II, PHY 2048 Physics for Engineers I, PHY 2049 Physics for Engineers II, STA 2023 Statistical Methods I, STA 3032 Probability and Statistics for Engineers.
Please note: Some courses are seasonal. A full list of courses is also available on the SARC Peer Tutor Application. Click on the "SARC Peer Tutors" heading to access the application.

SARC's Academic Coaching Program offers a structured, collaborative approach to support the academic success of students admitted to UCF through the Access Program. Academic Coaches will provide guidance and ongoing feedback as they facilitate coaching sessions with assigned students during the Summer B term. Each Academic Coach will assist First Time in College students with building college level academic and study skills. The application deadline for this position is Friday, April 20th by 5:00pm.
To apply for this position, please complete the following steps.
Complete SARC's Employee Application.
Include at least two valid references within the Employee Application including their contact information (former/current instructors or supervisors preferred).
Attach a professional resume.
Answer all questions completely and accurately within the employment application and submit by the deadline.
Access Academic Coach and the job description on the top right of this page for more details. If you have any questions, please contact Brandy Espinosa at Brandy.Espinosa@ucf.edu.