Tutoring
---
Tutoring is currently available for students enrolled in UCF, students of College of Engineering and Computer Science (CECS) and the Veteran's Academic Resource Center (VARC). Regular, consistent, and constant participation in SARC Peer Tutoring each and every week will increase the chances of achieving academic goals for the semester.
Benefits include receiving extra assistance with concepts and materials presented in class, learning the material from a different point of view, ability to attend online tutoring sessions, and learning in a group setting with other UCF Knights. All of the tutors are are internationally certified through the College Reading and Learning Association (CRLA) Level I certification and our trained to facilitate learning.
Covering over 30 subjects during the semester, SARC Peer Tutors also conducts Final Review Sessions during final exam week as a part of UCF's Study Union programming.
Tutoring Sessions
During tutoring sessions SARC Peer Tutors will answer questions you have concerning class material and concepts and will guide the discussion to allow for comprehension and understanding of material presented in during lecture. Additionally, Peer Tutors will provide suggestions on how to study / approach the course to reach your academic goals. They will demonstrate how to take notes, read the textbook, and study techniques necessary for academic success.
When attending a session you will need to bring: course syllabus, course notes and
materials presented in class, course textbook(s), and any questions you have for the tutor.
Labs (SARC, CECS, VARC)
SARC averages a tutorial staff of 35-40 peer tutors per semester with tutors offering assistance for over 300 hours per week at the labs. Tutoring labs / facilities include our SARC location at Howard Phillips Hall Room 115, CECS location at Engineering I Room 281, and VARC location at the Arena next to Jimmy Johns. If you view one of the tutoring schedules and don't see a subject being offered, view our other facility calendars and attend a session there. All students are welcome to attend any session at any lab.
Please note there is no food and/or drinks allowed in the tutoring labs.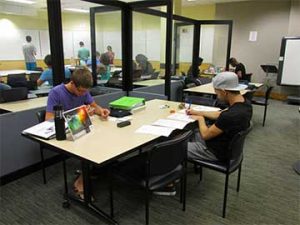 Study Union Review Session
Peer Tutors and Supplemental Instruction Leaders will be conducting Final Review Sessions through finals week. These peer tutors and SI leaders have agreed to take time away from their own studying to assist you in preparation for your final exams.
You will need to bring your textbook and class notes to these review sessions. The peer tutors and SI Leaders have devised a plan of action in order to review important material and capture essential concepts to better prepare you for your final exams. Please do not expect these peer tutors and SI leaders to start from chapter one. Please come on time. Each review session will start and end promptly as indicated on the schedule.
It is strongly encouraged that you attend these final review sessions as you will receive the most comprehensive review of course material. If you have questions after the review session, check below for the availability of peer tutors and SI leaders scheduled in the lab during finals week.